"The Neighborhood Votes"
Information
Season
Original Airdate

October 26, 2012

Production Number

115

Episode Guide
Previous
Next
The Neighborhood Votes is the first half of episode sixteen of Daniel Tiger's Neighborhood. It premiered on October 26, 2012, along with Daniel Tries a New Food.
Summary
The Tiger family is going to Clock Factory Park today to hear a big announcement from King Friday.
Daniel has to make several choices throughout the day, culminating in one BIG group decision: King Friday announces that the kids can choose one new piece of playground equipment and everyone gets to speak up for what they want by voting!
Plot
This episode is where Daniel Tiger, Prince Wednesday, Miss Elaina, Katerina Kittycat and O the Owl vote with Queen Sara Saturday.
King Friday announces that they want to get the swings or slide for their playground.
Daniel Tiger with his dad went into a voting cast. Daniel Tiger chose the slide. Everybody chose the swing for their vote.
Daniel is disappointed that he voted for the swings. He did not get the slide. It's hard that you don't get what you want.
Daniel Striped Tiger took a picture of Daniel Tiger and his friends swinging on the swings.
Characters
Trivia
Gallery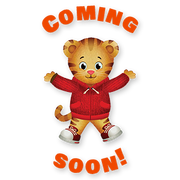 Community content is available under
CC-BY-SA
unless otherwise noted.