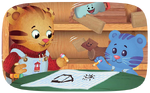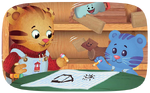 "Season 3" is a stub.


You can help Daniel Tiger's Neighborhood Wiki by expanding it.




Reason: There are a lot of plot info missing on episodes.
Seasons
1

·

2

·

3

·

4

·

5

·

6
Season 3 of Daniel Tiger's Neighborhood premiered on September 5, 2016. The season concluded on July 10, 2018.
Episodes
---
#
Original airdate
Title
Plot
301
September 5, 2016
No Red Sweater for Daniel
Daniel worries about how he looks when he has to wear a different sweater because his red one is in the wash.
Teacher Harriet's New Hairdo
Daniel is taken aback when Teacher Harriet sports a new hairstyle.
302
September 6, 2016
Sharing at the Library
Daniel and O share a dinosaur book that they both wanted to check out from the library.
Daniel Shares with Margaret
Grandpere gives Daniel a special sticker book that Margaret wants to play with, too.
303
September 7, 2016
Daniel's Allergy
Daniel discovers that he's allergic to peaches.
Allergies at School
At school during the 100th day, Daniel's teacher and friends help him to avoid peaches
304
September 8, 2016
Daniel Makes a Noise Maker
Daniel and Katerina play "super hero helpers" with the help of Baby Margaret's rattle.
Daniel Makes the Neighborhood
Daniel, Prince Wednesday, and Miss Elaina take their stuffed toys on a trolley ride through a pretend neighborhood.
305
September 9, 2016
The Neighborhood Fall Festival
Daniel and friends lend a hand to Music Man Stan after a gust of wind knocks down his Fall Festival decorations.
Field Day at School
Daniel and his friends try new games at Fall Field Day.
306
January 16, 2017
Daniel and O's Road Trip
When a rainstorm ruins their pretend trip, Daniel and O made a plan to continue the trip inside.
Daniel's Puppet Plan
PLOT
307
January 17, 2017
Daniel and Margaret Play School
PLOT
Treasure Hunt at the Castle
Daniel, Prince Wednesday and Chrissie cannot decide what to play at the Castle.
308
January 18, 2017
Daniel's Happy Song
PLOT
Prince Wednesday's Happy Birthday
PLOT
309
May 9, 2017
The Lemonade Stand
Daniel and Prince Wednesday make a lemonade stand.
Mad at the Beach
Dad takes Daniel and Miss Elaina to Jungle Beach.
310
May 11, 2017
Daniel Feels Two Feelings
PLOT
The Neighborhood Carnival
PLOT
311
May 26, 2017
Tiger Family Trip
The Tiger Family goes to Grandpere's house for the first time.
312
May 26, 2017
Visiting Grandpere
Daniel notices differences and similarities between Grandpere's home and his own home.
The Tiger Family Goes Back Home
Daniel and Grandpere go for a boat ride on the last day of the visit.
313
July 10, 2017
Daniel's Bicycle
PLOT
Katerina's Magic Trick
PLOT
314
July 11, 2017
Daniel Goes To Sleep
PLOT
Prince Wednesday Sleeps Over
PLOT
315
July 12, 2017
Daniel Takes His Time
PLOT
Sometimes It's Good To Go Slow
PLOT
316
September 4, 2017
King Daniel For The Day
PLOT
317
September 5, 2017
Firefighters At School
PLOT
Daniel's Doll
PLOT
318
September 6, 2017
Daniel's Very Different Day
PLOT
Class Trip to the Library
PLOT
319
September 7, 2017
Daniel Loves Tigey
PLOT
Daniel Needs Tigey At School
PLOT
320
February 26, 2018
Daniel's Fish Dies
PLOT
Daniel's Strawberry Seeds
PLOT
321
May 7, 2018
Daniel Wants To Be Alone
PLOT
Daniel's Alone Space
PLOT
322
May 8, 2018
Daniel Gets Mad At Dad
On their way to the Post Office, Dad tells Daniel he cannot play at the playground. Daniel gets angry.
Daniel Gets Mad At His Friends
Miss Elaina damages Daniel's project, and he gets mad.
323
May 9, 2018
Daniel Doesn't Want To Go Potty
PLOT
Daniel Sits On The Potty
PLOT
324
July 9, 2018
Circle Time Squabble
At school, Daniel gets furious when Miss Elaina gets more attention from Chrissie and decided he wanted to push her. Instead, he remembers the importance of self control and how to stop himself before his anger continues.
It's Not Okay to Hurt Someone
Farmer Daniel is playing Farm with his farm animals, but he gets so furious when Margaret knocks down his fence that wants to hit her. Instead, Daniel learns the importance of self-control, stopping his body as he remembers that it's okay to be angry, but it is never okay to hurt someone.
325
July 10, 2018
Daniel Learns About Lizards
Daniel and Prince Wednesday discover a small lizard in Daniel's backyard, and they have a lot of questions about it. When they wonder and explore, they can learn so many new things to see.
Daniel Wonders About Trolley
Daniel and his friends learn all about their favorite neighborhood Trolley. They want to find out how many passengers can fit.
Trivia