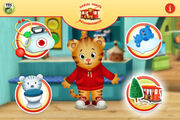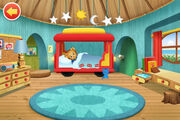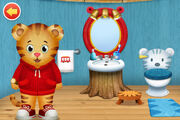 Daniel Tiger's Neighborhood: Play at Home with Daniel is an app for the iPhone and iPad that was released on August 30, 2012. The app features different aspects of the show split up into four interactive sections, "doctor," "bedtime," "in Daniel's bathroom," and "sticker book." The app is currently available on iTunes for $1.99.
The "doctor," "bedroom," and "bathroom" portions of the app were originally designed by Schell Games. The app was developed by Cloud Kid, partnered with PBS and The Fred Rogers Company.[1]
Official Description
Meet Daniel Tiger, PBS's newest neighbor. Playing is learning as you explore bedtime and bathtime and play pretend doctor at Daniel's house.
With this app children have the chance to play about some of Daniel's everyday experiences – experiences that might be a lot like theirs. And as they play, young children will be learning a little bit more about their place in the world. You'll be learning too – about your child - when you talk, listen and play together.
Doctor
Play Doctor Daniel with the instruments that doctors use. When children play about being the doctor, they're in charge. That can make it easier to manage when they have to be the patient.
Bedtime
Help Daniel get ready to go to sleep - and your children can be thinking about their own bedtime routines and the things that help them at bedtime.
In Daniel's Bathroom
Wash, brush and flush with Daniel and play about and practice bathroom routines.
Sticker Book
Children can have fun making up their own stories as they play with dozens of stickers in Daniel's house and Neighborhood.
External Links
References