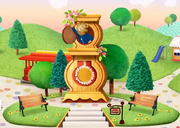 The clock factory is the workplace of Daniel Striped Tiger, Daniel Tiger's father. The building appeared in the original Mister Rogers' Neigborhood as Daniel Striped Tiger's home, though it is now his workplace instead. It first appears in "Daniel's Picnic," in which Daniel, Miss Elaina, and Prince Wednesday have a picnic outside the factory, but then have to go inside due to rain.
Trivia
The clock factory interior features a wide variety of clocks on the wall, some of which are references to the show, such as a clock of the castle and the royal family, and one of the Museum-Go-Round.
The factory has a fairly large courtyard around it, featuring a sidewalk to the building and some benches.